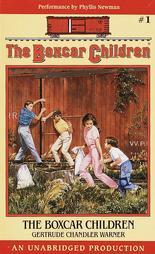 I am trying to get back to work, but the hurricane stories keep pulling me away. I am really mostly angry at this point. Angry that funding was cut for levee repairs, angry that the national guard is in Iraq instead of New Orleans, angry that my tax dollars are in Iraq instead of New Orleans…etc. I digress.
This children's book series was one of my favorites growing up. The Boxcar Children are orphans who make a home out of an abandoned railroad car. I loved reading about making a replacement home by scavenging for dishes, furniture and food. I think this book really set the foundation for my love of "nesting."
I thought about this book reading about the hurricane refugees rebuilding their lives and hearing about my friend Nicole's disappointment with her new apartment in San Francisco. Life can be really terrible sometimes, but you have to just do the best you can. Hope is finding a boxcar, making a stew and picking some flowers for the table.