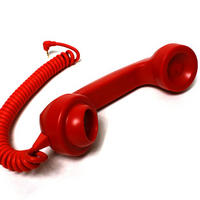 Cute idea for cell phone users
Why have a landline and a cell phone these days? Like most 25 year olds I know, I only have a cell phone. This is great 90% of the time, but long phone calls with friends back in Southern California can be difficult on a tiny cell.
Here's a possible solution from Elsewares. These classic phone handset plugs into your cell phone so you can use it like a regular phone.