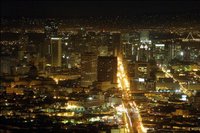 Things I love today: Weekend round-up
Whew! That was some crazy weekend! Jean's friend Hillary was in San Francisco for a visit and we painted the town red. Plus, we had Monday off from work for Martin Luther King Jr. Day. Between eating out a lot, shopping and seeing the sights it was an exhausting but fantastic weekend. Here's some of the highlights:
Dinner at Capp's Corner – Delicious food in an inexpensive, not-crowded-with-tourists, north beach restaurant? It's possible! We had a very tasty Italian meal at Capp's Corner (across from Northstar) on Friday night. Thanks to our clubbing-cabbie for the recommendation.
Big sale weekend – Club Monaco, L'Occitane, Benetton, Macy's and Kenneth Cole were all having huge sales this weekend. That's how I picked up my new best friend: Kenneth Cole's Bar Association handbag in dark brown on mega sale.
Thep Phanom – Mind blowingly good Thai food in Lower Haight. Sure, you have to wait for a table but the tasty dishes (like crispy spicy basil chicken) and unique waiter outfits are worth it.
Ruby Skye – Well….that was an interesting experience! I had a great time but can definitively say that I am not a "clubber." Who knew that pervy hula hooping was such a huge trend on the club scene!
Jean's House – Jean and Trent had us over for a super yummy dinner on Sunday night! Two kinds of pasta, a huge salad, garlic bread and ice cream. Add in a duraflame log in the fireplace and it doesn't get much more cozy than that.
SF MOMA – Love it! Glad I got to see the Chuck Close exhibit. This exhibit gave me the heebie-jeebies.
HOME – If you go to Home for dinner between 5-6 pm, you can order the three course early bird dinner for $11. That also includes a glass of wine! Sure, the restaurant may be full of just old gay couples that early but the food is so good!