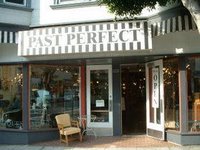 Urban Girl Tip: San Francisco Antiques
Furnishing an apartment in San Francisco can either be very inexpensive (as in "check out this cool chair I found on the street last night") or very expensive (as in "$20,000 for a chair!? Are they insane?!"). There's not a whole lot in the classy-yet-affordable category here in the city.
Only two places come to mind: Past Perfect on Union Street and Mickey's Monkey in Lower Haight. Both stores are full of one-of-a-kind gems at reasonable prices. The selection at Past Perfect is better but the prices at Mickey's are lower. Look for fabulous finds like antique globes, mod lamps and delicious paintings. Both shops offer delivery options too!