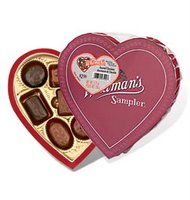 Things I love today: Whitman's Sampler
Many thanks to my co-worker for delivering boxes of chocolate to the whole office today! Valentine's Day just isn't official until you have scarfed down a chocolate covered caramel from a heart shaped box.
These chocolates remind me of a Valentine's Day a few years ago when Rob gave me a 4 pound, 17 inch red velvet heart full of See's candy and a rock climbing belay device. The best part was that he gave it to me during a trip to Yosemite and we have to struggle to get it to fit in the bear box each night. Jean, Trent, Rob and I may not have had enough sleeping bags or enough tent for that snowy trip but we certainly had enough chocolate!
Today's "TILT" post is really dedicated to my wonderful boyfriend (the sampler was just a decoy!). Without you I would never have had the guts to go camping, take up rock climbing, travel to China, move to San Francisco and experience the other countless adventures we have undertaken together. You are a magnificent man, sassy sir and fantastic fellow. I love you!