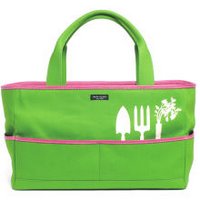 Trends I don't get: Garden totes
Kate Spade has come out with a green and pink garden tote for spring. I admit, it's cute. But is it any cuter than an actual garden tote? And is it possibly worth $245? When I first saw it, I sort of blew it off as another example of Spade's homage to prep. But then, I ran across this python and linen tote for $495 from J.Crew. This one is just plain weird. Even more odd is the $485 Burberry garden tote that is actually supposed to be used for gardening.
For $60 you can get an actual garden tote, embroidered with your initials and with tools from Red Envelope. Admittedly, it is not adorable. This $40 version is closer. Or for about $30 you could get a bright canvas bag from Land's End.
What's next? The Kate Spade bucket for $300 or perhaps a Prada tool belt?