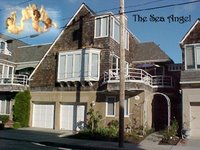 Shopping Challenge: Weekend in Santa Cruz
For my mom's birthday this year, the family has rented a beach house called the "Sea Angel" in Santa Cruz for the weekend. A couple of days on Seabright Beach will be so nice. I can even work on my tan (ha!) for the Hayfork wedding the next weekend. I know I'm packing two bikinis…what else should I bring?
Black linen tunic – Perfect "hippie modern" when worn over jeans with a big belt.
Light blue boatneck tee – Exactly like this one but purchased in Buenos Aires for $3.
Canvas slacks – Pants! But for the beach!
White pleated skirt – Knee length from Zaras in Argentina.
Dark blue polo shirt – How very prep.
Seersucker pants – These would either be delightful or a complete disaster. Hard to tell.
Nantucket rope bracelet – Because Santa Cruz is the Nantucket of the west?
Sunless tanner and sunblock – Lots of it.
Ribbon belt – These belts are prefect preppy must-have.
Sunglasses – The bigger the better.
Books and Magazines – It's not a beach weekend if you don't come home with a two pound, sand-logged New Yorker.
I wish it were June already!