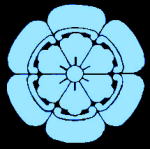 Trend watch: Modern kamon designs
Japanese patterns and designs are everywhere these days. From my chrysanthemum earrings to this necklace, Japanese-inspired botanical patterns are hot. Let's investigate this trend a bit.
Turns out that many of these designs are derived from Japanese Kamon images. Kamon are family emblems that originated as early as the 6th century (Asuka Period). The designs are most commonly designed with abstract plant or bird motifs. Click here to view a sampling of some of the most popular images or here to read more about the history of Kamon.
If you want to add some traditional kamon images to your wardrobe, try this hawaiian ring, this scarf or order custom printed Kamon goods from cafepress.