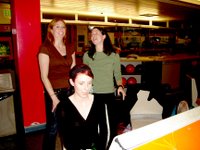 Ladies Activity Club party tomorrow!
The June Ladies Activity Club party is tomorrow! Jean is hosting a cupcake decorating event for about 12 of the members. We have a lot of baking to do tonight in preparation.
Jean also just sent over a few photos from last month's LAC party. Betsy hosted the May bowling event at Yerba Buena Lanes. Click here to see a photo of the group and here to see Shelly celebrating a strike. That's me in the photo posted above. I am looking depressed by my paltry score of 34 for the night. I am definitely a better baker than bowler!