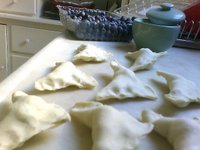 Recipe: Easy blueberry pastries
Hooray for puff pastry! One package of this frozen dough allows you to pretend that you are a baking genius and impress your friends with yummy treats. That huge box of blueberries we bought on Sunday was just calling out to be made into simple turnovers.
Start by letting the frozen dough defrost on the counter for about a half hour. Next, unroll it and cut the dough into squares. Pick up a square and put 5-7 ripe blueberries along with a pinch of sugar in the middle. I also put cream cheese inside a few of these, use more sugar if you do. Pinch the edges together into a triangle and sprinkle more sugar on top. Bake for about 15 minutes at 400 degrees until the pastry is well browned. Blueberry juice will probably leak out here and there. Here's a photo of the final results cooling off.
Eat immediately or reheat each for 10 seconds in the microwave before serving. I brought all the leftovers to work today and they disappeared in seconds. Feel free to play with the recipe. The nice thing about puff pastry is that's pretty impossible to go wrong.