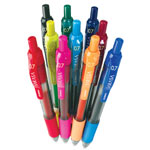 Things I love today: Gel pens
I ran by Office Depot at lunch today and went a bit nuts with all the back-to-school supplies. I love office supplies and have absolutely no restraint when it comes to art supplies. Gel pens are irresistible to me!
I bought a package of fluorescent gel ink pens and a package of metallic uniball pens. My office notes are so much more fun. Pick yourself up a pack today!