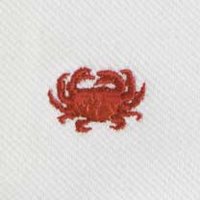 Things I love today: Preppy embroidery
My office building is largely populated by fancy interior designers. I just ran across one in the elevator rocking a white blazer embroidered with sandpipers, linen pants and loafers with no socks. I guess today's heat went to his head!
Inspired by this decorator extraordinaire, I have found some preppy embroidered pieces that are perfect for a hot day in San Francisco:
Happy hot weather day!