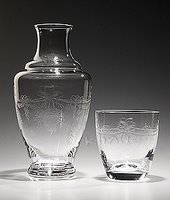 Bargain Finder: Bedside Carafe
Over the weekend, I admired some etched crystal bedside carafe sets that were far outside my price range. A quick online searched turned up much more affordable glass alternatives.
My favorite is this Victorian set for $35 but I also love the modern set by Forum for $15 or the traditional set for $12. It's not something I'd use everyday but it would be great for visiting guests or as an alternate vase!