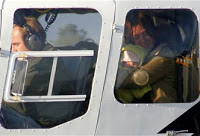 Kati Kim and her two young daughters were rescued yesterday afternoon after having been stranded in the Oregon forest for nine days. Kati owns a wonderful boutique just a few blocks from our apartment and I've been following the story since it was first reported. James Kim is still missing after hiking out to find help two days ago but rescuers are on his trail and optimistic.
Although I usually make heaps of fun of Rob for being into survival skills, wilderness medicine and the like, this incident has made me realize just how lucky I am to live with a grown up boy scout. Thanks to Rob, our apartment and car are fully stocked with supplies for an earthquake or other emergency. And if we ever got stranded in the woods, I know that Rob would be almost excited because he could put all his skills to the test.
If something like this could happen to the Kims, it could happen to anyone. However dorky it may seem, it makes sense to teach yourself a few survival tips by reading this type of article or even (I can't believe I am saying this) watching these kinds of shows. Stay safe out there and keep James Kim in your thoughts today!