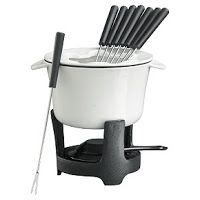 One of my favorite easy dinners to make is fondue and salad. You can find pre-made fondue at the grocery store or Trader Joe's for about $4. It's not as good as making it from scratch, but a whole lot easier.
Last night, we used our new fondue set for the first time and paired the fondue with a great loaf of whole wheat sourdough and a salad with balsamic dressing. Green apples are also good for dipping. Rob had fun tinkering with the alcohol stove part and I had fun eating a massive amount of cheese, it's a win/win!
Of course, washing the fondue pot isn't so fun. But you can always try the Matterhorn on Van Ness instead. The "highlander" cheese fondue is delish and there are no dishes after.