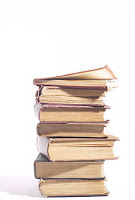 Party Recipe: Book Exchange
Last night's Ladies Activity Club party was one of our best so far! Hostess, Victorianna, came up with the idea of making bookmarks and having a book exchange for April. Each guest brought a wrapped copy of one of their favorites and we had a "white elephant" style switch. You would have thought we invented sliced bread with this idea, everyone was so into it. It's all the fun of a book club but without the reading assignment.
Here's the list of recommendations from the SF LAC:
Everyone left the party inspired to become a full-blown bookworm! You can view all the photos from last night online here.