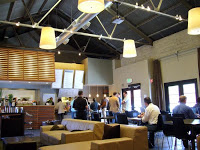 Things I Love Today: Axis Cafe
Practically every building in the design district has a small cafe downstairs. It's amazing how many hidden gems you can walk to for a work lunch.
The latest find is Axis Cafe, a hipper-than-though restaurant with a living room set-up inside and a garden patio outside full of freelancers on laptops. The menu is full of things like artichoke sandwiches and brie relish, but the prices are surprisingly low. The service is the only part that lags behind a bit.
In a glorious example of San Francisco's crazy streets, the cafe is on the corner of 8th and 16th.