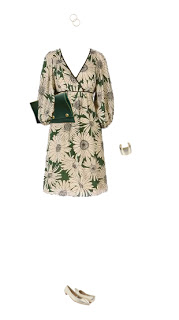 What to Wear: Daisy Dress
Don't you hate it when you find a great dress but then can't figure out what to wear it with? I'm actually in a dark teal Club Monaco number today that I just found a cropped jacket to match. Here's Alyson's request:
Next Saturday (15th), I'll be attending my cousin's wedding in Philadelphia, and need some help with shoes and accessories. I picked up a dress last weekend from Anthropologie.

The wedding is at 6pm on a boat in Philly. I love the dress but I am having trouble figuring out what shoes and jewelry to go with it, and will possibly dress it up a bit. I have some cool black sandals which could work, but I was wondering if you had any ideas for something a little more exciting. I'm not afraid to do metallics or contrasting colors at all. (as a side note, I tried on some silver jewelry with the dress, and it didn't seem to work with the predominate off-white color).

I'm 5 ft 7, with dark brown wavy/curly hair, about an inch above my shoulders, light/medium olive skin, and hazel eyes. I'd like to keep the heel height to a minimum — below 1.5 inches.

I love your blog! Your work wardrobe post has helped me a lot with getting ready for my new (and first!) job that I am starting right after this wedding.
Anthropologie continues their reign of terror against all things external links and photos, so I can't give you a direct link to the dress. It's called "Dandy Daisy Dress" and it's on sale if you want to find it.
Shoes – This was the hardest part. They just don't make many evening shoes with a heel under 1.5″. These gold skimmers are $45. (Without heel restrictions, I love these mary jane pumps for the dress)
Bracelet – Gold is definitely the right choice with these green and ivory colors. This cuff is from Forever21.
Earrings – Hammered gold hoops from Forever21 too.
Clutch – A handmade Etsy clutch is lined with a vintage scarf for $30. A lot of great uses beyond this outfit.
Have fun in Philly, Alyson!