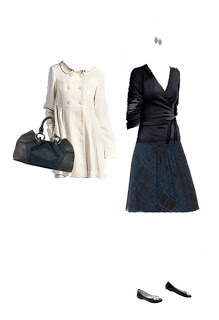 What to Wear: Blue and Black
All the rules about not wearing black and brown or black and blue together have been thrown out the window this season. How fun! Here is Sarah's request:
I found this super cute skirt for $12 at target but I have no clue what to wear with it. Ideas?
Here's one way to wear this skirt to work:
Skirt – Sarah's own, from Target
Sweater – A basic from La Redoute for $24.
Shoes – Flats with a little flair from Kenneth Cole. You could also rock black tights if it didn't make you feel too "goth."
Jacket – A white coat from Urban Outfitters. This isn't my favorite, but there aren't that many to choose from it seems.
Bag – From Kenneth Cole on sale.
Earrings – Silver leaves top the whole thing off.