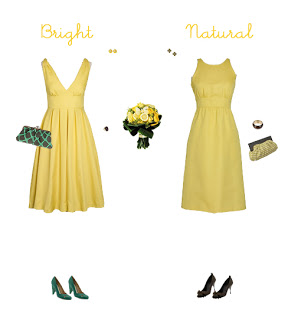 Wedding Wednesday: What to Wear Bridesmaids
A cheery yellow dress is so fun. But how do you pair it with shoes and accessories? Here is Meghan's request:
I love your what-to-wear guides, and was hoping you could help accessorize my bridesmaids for a May wedding. My girls are wearing J.Crew's cotton cady dresses in Sour Lemon (there are 5 styles, 5 girls and each will be wearing a different dress).

We're having a church ceremony, with the reception in an art gallery, and the palette is simple and natural – greens, brown, and cream. I know you're planning your own wedding, and I recall seeing some yellow/orange dresses that you were looking at for your 'maids. I'd love your help choosing shoes and accessories that my girls will love (and that aren't too hard on the wallet!).
I've done two different options here. One that is bright and another that is more natural:
Bright
Shoes – If you're going to wear a big yellow dress, you may as well have fun with it! Funky green pumps give the dress a kicky, vintage feel.
Earrings – Yellow ceramic flower studs.
Ring – A chunky cocktail ring.
Clutch – In printed canvas from Urban Outfitters.
Natural
Earrings – Green and ivory enamel studs from Forever21 look like little leaves.
Bangle – In wood and metal.
Shoes – Brown satin pumps with a bow.
Clutch – In printed canvas from Old Navy.