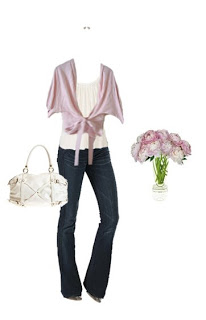 What to Wear: Ballerina Sweater
Have you checked out the EmilyStyle Tag Sale yet? I've already sold one of the dresses, so my first foray into eBay selling isn't a total wash. There are still some great items for sale.
One piece that I love is the pink ballerina sweater. It would be so easy to put together a stylish outfit with it as a topper.
Theory Cashmere Ballerina Sweater – Soft and pretty. This sweater comes from my friend Amber. I'm really tempted to buy it for myself.
Jeans – Dark wash from Seven.
Tank – A floaty white tank goes well with the fluid sweater.
Handbag – An easy spring bag from Urban Outfitters.
Shoes – Jeffrey Campbell flats are the best!
Earrings – Pearl studs from Forever 21.
Bidding hasn't started yet on that sweater so there's still time to email me and make a direct deal if you want it.
SOLD! To Charlotte in SoCal. Be sure to email me early if you want to snag something from the sale.