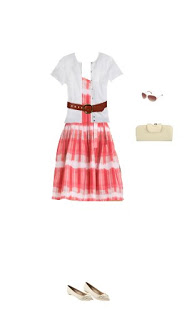 What to Wear: Beat the Heat
Listen up weather…you may have won yesterday (and a tiny bit today when I was walking to work with no shade) but you're going down. I'm dressed to beat the heat in a white pencil skirt, wide belt, a black tee and purple flats and I have Brett Dennen on my ipod. I'm staying composed. I will not melt.
Here's an outfit I used as inspiration last night when forming my game plan:
Dress – Pretty in red and white from BCBG, and on sale too!
Sweater – It's nice to have a little coverage, even if it is blazing hot. This short sleeved number is great for summer.
Belt – Adds a little polish to the combo.
Flats – With a pretty ruffle on the toe.
Clutch – A big heavy bag is the last thing you want on a hot day.
Sunglasses – A must have.
I feel cooler just thinking about this outfit.