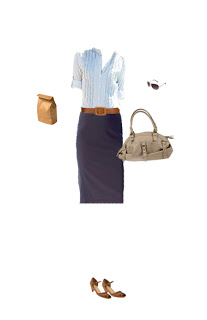 The heat wave and the haze have left San Francisco feeling more like LA. It's not necessarily a bad thing (I like the warmer evenings) but the whole city does appear to be having wardrobe issues. I ran out of good hot-weather outfits yesterday. Time to do a closet reorg and find some new combinations.
Here's what I want to wear to work next week:
Shirt – Alloy is really turning up the cute right now.
Skirt – A classic navy pencil skirt in tropical wool on sale at Bloomingdale's.
Shoes – Orthopedically adorable? I like the retro flair, even so.
Belt – From Forever 21.
Bag – From Forever 21 as well.
Sunglasses – Ditto.