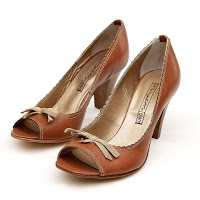 Things I Love Today: Summer to Fall Shoes
I'm a sucker for shoes and boots in this natural leather color. It's a shade that works so well with almost any summer brights or fall darks. Picture them with a crisp white cotton dress. Or with chocolate trousers and an ivory sweater.
And with a little scalloping detail? a bow? a stacked wood heel? from Italy? and on sale? Now I'm really hooked!