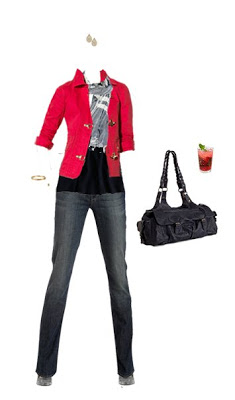 What to Wear: Girl on the Town
Here's a request from Lesley! (PS: The what-to-wear queue is a bit backed up. I'll only be taking "rush order" requests for $15 each until things clear out a bit)
I am a 25 year old living in Chicago and a big fan of your blog. When I'm not having to wear all-black at work, my outfits are straight from the J. Crew catalog (or outlet!). It seems that every time I get the chance to go downtown for drinks or to a semi-casual party I never know what to wear. I have a hard time picking interesting tops to pair with jeans that aren't completely out of my style. I don't want to look trashy, but I also don't want to look stuffy. I love wearing color and fun jewelry – I have blonde hair and blue eyes, 5'7″ and a size 4. I am hoping you can help me spruce up my semi-conservative wardrobe. Thanks!
Casual can be tricky. I find it helpful to layer in pieces that can work for a variety of adventures after dark: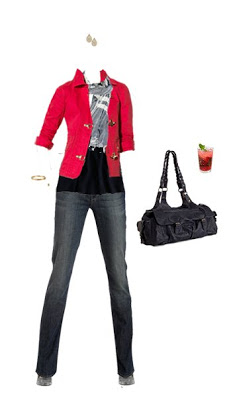 Tank – A pretty silk tank in navy from J.Crew.
Jacket – In geranium canvas on sale from Ralph Lauren. Love those big nautical closures.
Jeans – A straight leg pair from Bluefly.
Scarf – From Forever21.
Shoes – A seriously hot pair of heels half off. Ankle strap, snakeskin, scalloped suede – you can't have a bad time in these shoes.
Purse – A dark blue bag on sale from Anthropologie.
Earrings – Gold and gray earrings from Forever21. Toss on some gold bangles too!
As you go from dinner to dancing, peel off layers and stash them in your bag. You'll be set to close the city down in style.