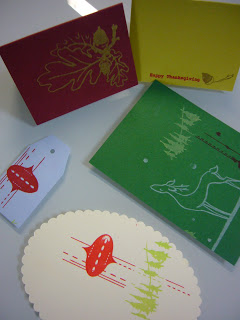 Ladies Activity Club: Gocco for the Holidays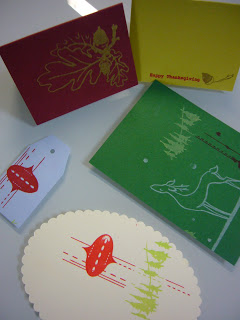 We had a great LAC party last night! I wish I had more photos of the ink, paper, mulling spice madness that went on as we learned how to screenprint with Gocco.
Our hostesses Lauren and Kellie provided a huge spread of food including mulled wine, mulled cider, cheeses, strawberries, chocolates, cookies and hot tarts. They had Christmas music on the stereo and Meet me in St. Louis playing on a projector. For the activity, Kellie drew the designs (isn't she talented!) and I helped turn them into screens.
There were two Gocco machines going all night printing place cards, note cards, gift tags, envelopes and gift boxes for the holidays.