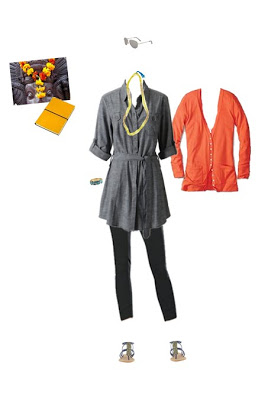 Viet is about to head off to Indian on a charitable mission:
I am going to Northern India near the Himalayas for 5 weeks in June-July and wondered if you had any suggestions on a practical but comfortable and stylish outfit? I am volunteering with some health clinics over there and doing some independent travel. Weather will be mild 60F-70F but rainy. Only rules would include staying very modest to respect cultural norms.
A trip to India is the perfect opportunity to play with bright colors and dashes of sparkles. Here's my recommendation for Viet when she's exploring: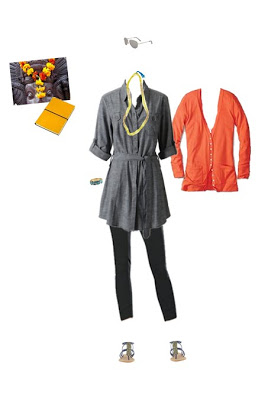 Tunic – In versatile chambray from Anthropologie.
Sweater – A bright cover-up for cooler evenings.
Leggings – Basic black leggings are comfortable for a range of temperatures. Make sure they are nice and opaque for modesty.
Sunglasses – Perfect for a Himalayan adventure.
Necklace – Yellow beads with a bright blue accent.
Bracelet – Turquoise and gold bangles.
Sandals – Strappy blue sandals with green and pink jewels. Switch out for a pair of converse sneakers when it rains.
Journal – A yellow leather journal perfect for recording your travels.
Bon voyage Viet!