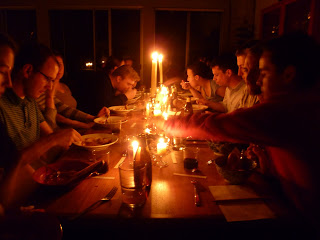 Party Recipe: Earthquake Dinner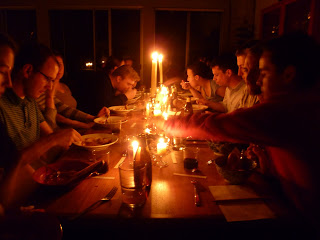 We celebrated the 105th anniversary of the 1906 earthquake and the 5th anniversary of this annual party last night in style. Two good friends RSVP'd at last minute, bringing the total for dinner to 19. Even by my crazy standards, that was a little intense.
Guests arrived at 7:00, complete with dogs, babies and dates in tow. The evening started with drinks (red wine and Anchor Steam beer) and a local cheese plate. Lots of talk about the 3.4 earthquake that happened earlier in the day. Everyone divided into to teams for the start of the earthquake pub quiz.
As it got dark, Rob and I lit more and more candles. We all sat down to eat cioppino with long pieces of toasted garlicy sourdough bread by candlelight. I had enough on hand for plenty of seconds. The Tadich Grill recipe turned out just perfectly!
Those plates were cleared and glassed were refilled as we tackled the final part of the pub quiz. At the same time, I plated angel food cake with fresh strawberries and homemade whipped cream for dessert. Another round of seconds for dessert. We tallied up the points for the quiz and gave out prizes to the winning (and losing) teams.
Everyone bundled up and headed home around 10. Rob and I loaded up the dishwasher with about half our plates and silverware and turned in to bed.