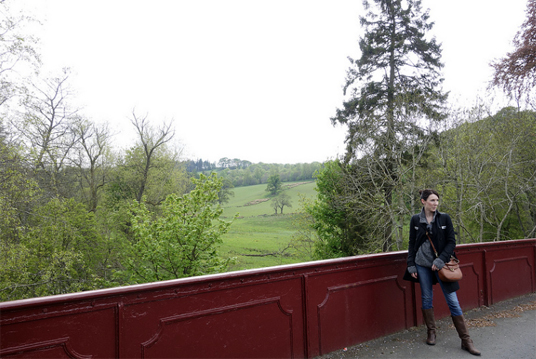 I've saved the best for last! My favorite part of the trip was our stay at Cringletie House in Peebles. We took the bus from Edinburgh to the Scottish Borders. Oops, missed our stop (didn't realize the hotel would have its own) and walked back along the farms. Isn't the red metal bridge pretty!
The house is an old country estate built in 1861, set on pretty grounds and surrounded by farms.
Our room was in one the round turrets and was very well appointed. The wood shutters come in handy when it's still light out at midnight.
Our stay included two formal breakfasts and a lovely big dinner. We started in the bar with drinks and small appetizers. Then a waiter brought us upstairs to the dining room where we had several courses including haggis, crab salad, lamb, black cod and chocolate mousse. Our waiters included an adorable 13 year old boy was in charge of the bread basket and had perfect service manners.
Dinner was followed with even more desserts and coffee in the library. I was in heaven!
We loved hiking for miles around the valley. We saw foxes, pheasant, grouse and rabbit on our walks and had to hide out from occasional rain showers under the trees.
It's so fun to find your way through the livestock gates and spy on sheep.
I would love to go back to Cringletie House! This officially wraps up our UK trip. It was only nine days – but we managed to see so much. You can check out all our trip photos online here.