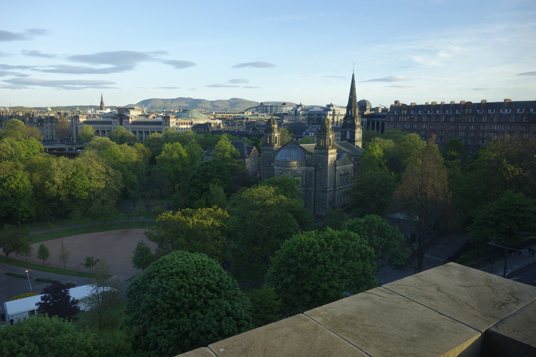 Next up: Edinburgh! Rob and I took a day train from London to Scotland on the second day of our vacation. We stayed at a much more modest hotel – the Premier Inn – but that was centrally located, clean and with very friendly staff. Our room was on the top floor and had an amazing view of the gardens and castle:
Thanks to being so far north, I think these photos were taken at about 11:30pm.
With no guide book or plans, we winged it again. Walking around Carlton Hill the night we before, we spotted people hiking on a mountain to the south. Holyrood Park is the former hunting grounds for the royal palace (where the queen still stays when in Scotland). A steep hike that gives you an amazing view of the city. The wind at the top of Arthur's Seat is severe!
We discovered a tiny formal garden called "Dunbar's Close Garden" on the walk back to our hotel:
I don't know what the "Mushroom Trust" is, but I like their style:
We ate well at a couple spots in Edinburgh: Blackfriars offered gourmet pub cuisine in a modern spot right off the Royal Mile. We met up with a school friend of my sister's who has been living in the city one evening. An authentic Scottish meal complete with oysters and haggis followed by a fun pub night at the Hanging Bat:
We also tried some of the famous Scottish Irn Bru soda. Flavored like bubble gum and bright orange, it still beats out Coke as the favorite national drink:
Museums are largely free in the UK, so we made the most of them! We visited the adorably small National Gallery but my favorite in Edinburgh was the massive Victorian National Museum:
It has a new roof garden with a great view of the city:
On our last day in Edinburgh, we explored the fancy Edwardian neighborhoods on the "new" side of the city and stayed out with pints on Rose Street waiting for our midnight sleeper train back to London: