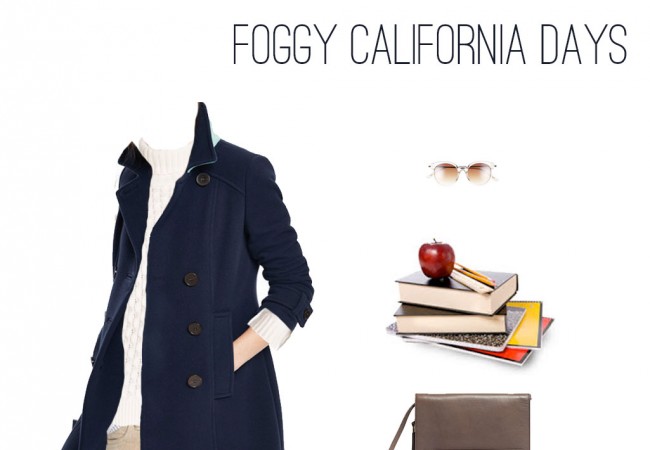 What to Wear: California Cold Mornings
Growing up in coastal California, you learn to dress in layers according to the time of day not the seasons of the year. In the foggy mornings, you want to be bundled in warm layers. At noon, it is sunny and warm enough for a t-shirt. In the evening, the fog rolls back in and you're back to the coat. Staci wrote in with a question on how to dress for the fog:
Looking to you for What to Wear help…..I keep running up against a challenge each morning when I'm readying myself to walk my 5 year old to school and then move onto the rest of my day – possibly a casual meeting, errand running or meeting my husband for lunch with our 3 year old daughter.  We live in Petaluma.  The days start out cold!  And turn warmer by

noon

so I often find myself changing clothes in the afternoon to walk back for a

2pm

pick up.  The big issue I'm having is a warm, stylish walking shoe and the right pants to pair with it.  I have a beautiful navy pea coat and a teal patagonia puffy jacket that i often wear for warmth up top.  I just cant seem to find a look that feels stylish and keeps me warm on the walk.  I've tried on a bunch of jeans the other day and didn't like any of them…. the boyfriend cut just seemed too baggy to pair with a tennis shoe and the alternatives all seemed so skin tight.  any suggestions for a stylish tennis shoe or an alternative stylish walking shoe and good looking pant combo?
Although they say navy goes with everything, I always find it harder to match with an outfit compared to black, gray or even camel. Navy tends to match most easily with denim, white, maroon, pastels and the brightest of the brights. Here is an outfit for Staci to consider: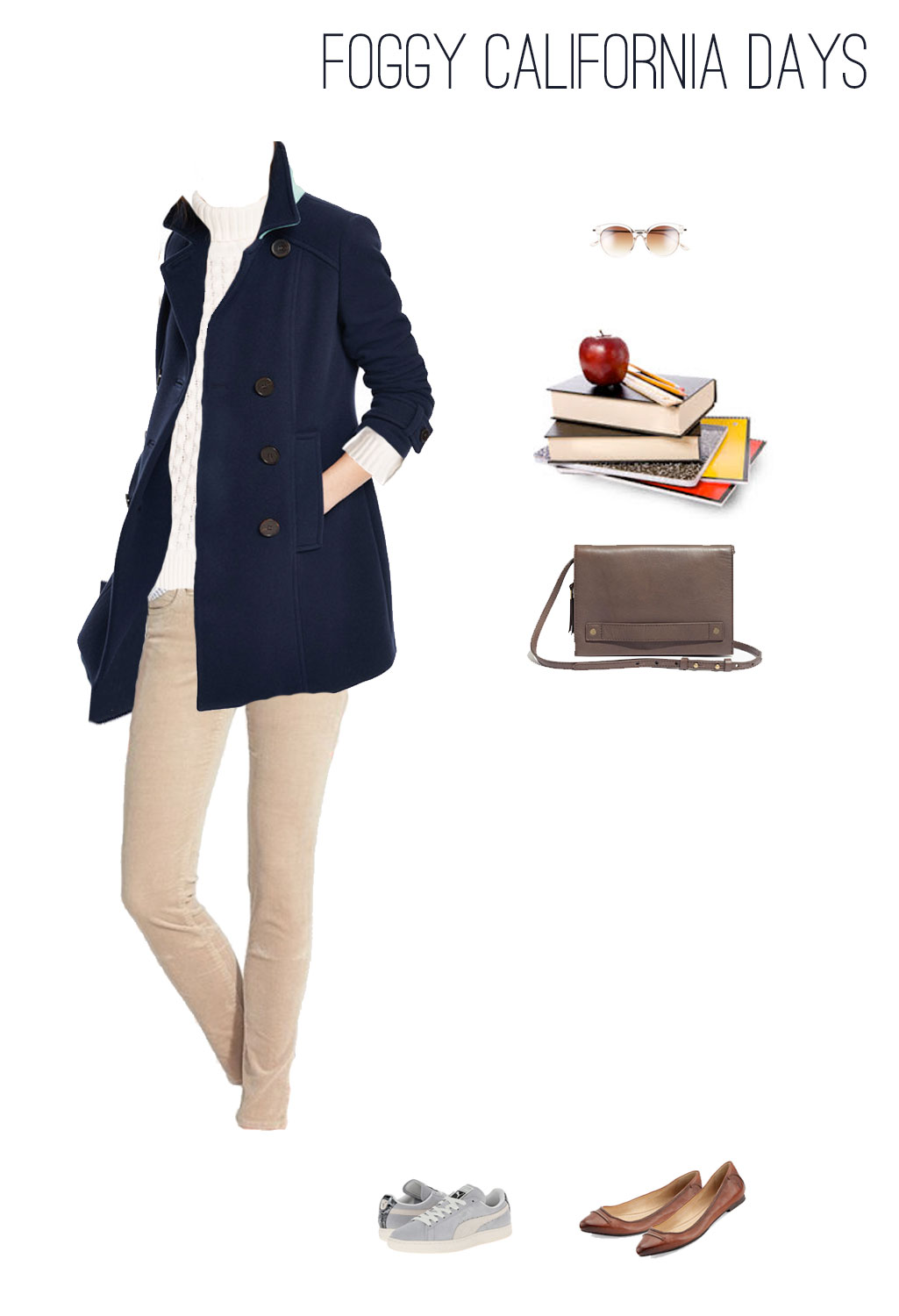 Coat –
A quality navy peacoat on sale for $200 from UK brand Boden. The teal detail under the color is lovely. As the the day warms up, transition to wearing it on your shoulders like a cape and then leaving it behind altogether.
Corduroy pants
– Ivory corduroys are a style step up from jeans or chinos. On sale from Nordstrom for only $33 – you might pick up a couple colors. Feel free to go up a size if you find the skinny cut too constricting but they're usually a bit stretchy. Try to find a cut that skims right above the ankle or try rolling them up.
Sneakers –
On more casual days pair the look with a vintage pair of sneakers – as the models do. Pumas or New Balance seem to be the most stylish.
Slip-ons
are even easier.
Flats
– On fancier days, swap in a comfy pair of Frye ballet flats. On colder days, slip on a pair of
flat boots
over the corduroys.
Sunglasses –
For when the sun comes out. I love the look of translucent frames.
Bag
– A small cross-body purse from Madewell in an easy gray/brown color for $100.