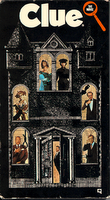 Detective: Project Runway
Oh my! I can't believe Tim is going to boot someone off Project Runway tonight. I am so excited to see who, what, where happens. It's like a game of CLUE! Here's my prediction:
Keith Michael – Tampering with someone else's project – In the sewing room
And here is Rob's prediction:
My co-workers and I have been discussing all kinds of theories! Is it Laura? Is it drugs? Is it stealing? Will Bradley (who looks a lot like Van Gogh to me) go crazy and cut off his ear? The rules aren't that strict on this show so you know it would have to be something really bad.
What's your prediction? Share it in the comments section. If you're right, you'll get the glory and maybe a little prize!