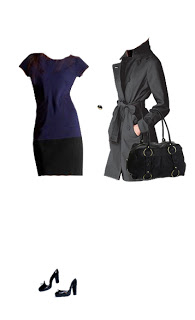 What to Wear: Euro Office
The trick to dressing for work is avoiding monotony. It's too easy to get stuck in a rut of outfits each week. Here is Anja's request:
It's been 3 weeks since I started working as an assistant to a CEO of a subsidiary of a Dutch company. Because we're recently starting from scratch here in Germany, we'll be going on a 2-day business trip to the Netherlands as soon as possible to learn about how things are done there and transfer them home.

I already started building some kind of basic wardrobe with a black pencil skirt + jacket as well as the same thing in grey. I try to mix and match with blouses, sweaters, cardigans, pants and accessories. As I really want to make a good first impressions those two days and it needs to be something that I can wear on the plane and the whole day, I would love to hear your advice. I'm tall (6,1″), wear a size 6/8(?), have fair skin and dark blond hair. Ps.: If it's not too much to ask for, could you perhaps find sources that ship to/are situated in Europe?
It's important to look really sharp when you're traveling on business. It makes you feel more confident!
Dress – A simple black and blue sheath dress is so versatile. Choose a fabric that won't wrinkle when you sit.
Shoes – Boots would be cute but hard to get on and off for airport security. Go with a tall pair of stacked heel pumps.
Trench – A sharp trench makes a big opening statement.
Bag – Leather slouch tote from TopShop.
Ring – Shiny black enamel.