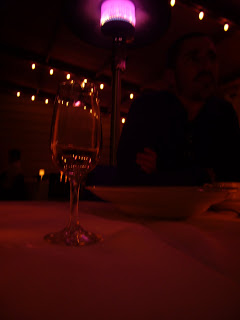 Weekend Round-Up: Glitz and Grit
Fun and very busy weekend! We took full advantage of the fact that it finally stopped raining. Sunny – even bitter windy and cold sunny – is better than rain.
On Friday night, Rob and I were taken to dinner at Chez Spencer. I have professed my looooove for this restaurant before, and it only gets better each time. Everything was divine: from the patio table, to the perfect dirty martini, to the rolls, to the olive-rubbed rack of lamb, to the glass of muscat that ended the evening.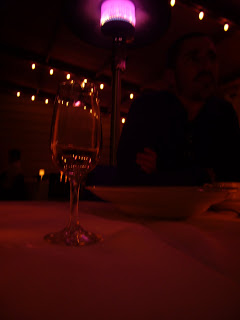 A lazy Saturday morning. I made a big "fry-up" of eggs, potatoes, mushrooms and turkey bacon. Rob and I dashed downtown on the train for a few errands and had a nice mexican lunch.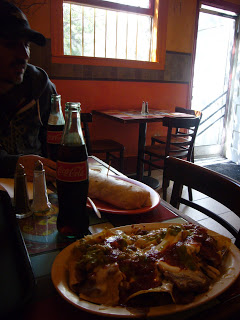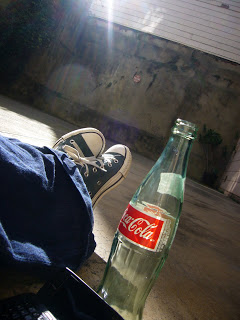 In the afternoon, we went to the park to practice setting up the NERT canopy. We ran into our friends and their dog while there – this is such a small city sometimes!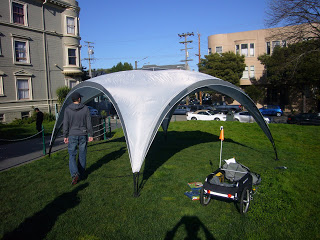 Rob and I drove to Davis in the evening to prepare for our big ride the next day. Jackie graciously hosted us at her apartment. Up very early on Sunday, especially with daylight savings! We had to meet the other riders at Cache Creek Casino at 9:00. With Rob and I on the tandem and Jackie on her bike, we peddaled along past organic farms and old ranch towns all the way up to where the 16 meets the 20 and back. A very challenging 54 miles in total. 17 miles more than my longest ride ever.
Starving and exhausted, we went for a late lunch at Burgers and Brews in Davis. Around 4:00, we drove back toward the city and straight to San Mateo to hang out with Margaret. A light dinner and apricot pie at Heidi's Pie. When we got back to the apartment, and put the bike away it was already almost nine. I crashed hard and went to bed.