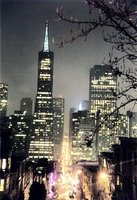 Only in San Francisco: Volume 1
San Francisco is such a wonderful city. Full of fog, beer, music, art, parks, kickball, fashion and more. It also happens to be a city full of crazy people and "alternative lifestyles" (the kind that make even midget polygamists do a double take). There are so many people to keep life in this city interesting that I thought it was time to launch a new feature on this blog. Only in San Francisco…
Do you see a totally standard looking 80 year old man in a wool sweater, jacket and khaki pants on the bus…sporting a set of bright red acrylic nails.
The question "Are those dogs or people in the back of that convertible?" is not that weird.
Your morning bus ride involves 2-6 transvestites.
Do you see a homeless man eating a hot dog (no bun) and drinking orange juice from a jug while blasting classical opera from his boombox.
Is taking a vegan out for dinner not at all a challenge.
Would someone ever consider wearing assless chaps on the subway.
Is Chinese New Year a major holiday that includes a parade broadcast in HD.
Do bad bus stories make for the best conversations.
Ahhh San Francisco! I love you so!