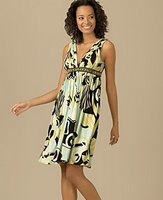 Shopping challenge: Summer clothes for Nicole!
My friend Nicole lives in Sacramento, which has had about the same dismal weather for the last few months as San Francisco. Today she emailed me to ask:
I am going to order summer clothes already. They always run out and I need to anticipate the warmth to stay positive. Any suggestions of where to look?
Ooo la la! A real shopping challenge. Here's what Nicole looks like (adorable!). She's tan with dark hair and my total opposite in nearly every way. From years of bossing her around I know she looks good in halter necklines and empire waists. Here are my suggestions: