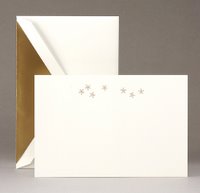 Three pounds of clearance Crane's stationary just arrived in the mail. I am soo happy with my purchase! Especially these correspondence cards with gold star engraving.
I completely forgot about how nice the Crane's boxes are (click here for a fuzzy camera phone picture). Each set came packaged in it's own dark blue box with a white ribbon tied around the notes. How elegant! It makes me want to send out notes to people right now!
The Crane's clearance sale is still going on. I highly recommend it!