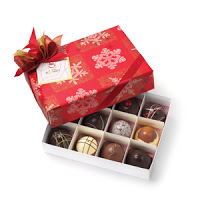 Things I Love Today: Joseph Schmidt Truffles
So much for the resolution I made on Friday to never touch another gift basket. Or the resolution I made last weekend to give up Champagne forever. As soon as a box of Joseph Schmidt truffles landed in the conference room, I went straight for the champagne truffle. Delicious! And made in San Francisco right on Folsom Street!
Resolutions are for breaking, right?