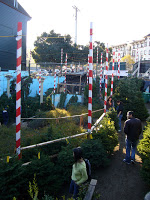 Weekend Round-Up: Hello Holidays!
Another gorgeous weekend in the city! Rob had to go to work on Saturday morning so I spent some time cleaning the house, visiting the library and running errands. It seemed like every victorian in our neighborhood was being decorated with wreaths and garlands. You could almost hear the silver bells.
When Rob came home at noon, we walked down to the Delancey Street lot on Market Street to pick out our Christmas tree.