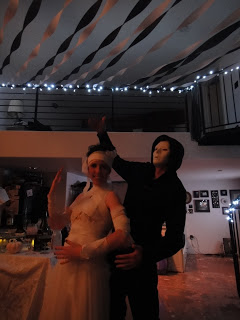 Party Recipe: Black & White Halloween
The Black & White Ghouls Ball was so much fun! So much, in fact, that most of my photos from the night are blurry! I'll do my best: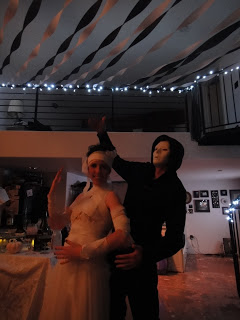 Decorations: A canopy of black and white streamers, skeleton picado garlands, twinkle lights, white tablecloths, silver candelabras, black rats in white bows, white porcelain bust in a black bow, spiderweb table runner, white pumpkins, low lighting and lots of candles.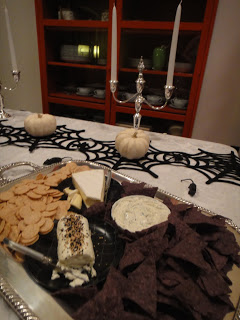 Food: small cups filled with pumpkin ravioli in white sauce, chicken mole skewers in cups with white rice and black beans, shrimp with black cocktail sauce, cheeses and dips with white crackers and blue corn chips, pumpkin seeds, black olives.
Drinks: A delicious ice cream punch made by Yvonne, black velvet cocktails made with Guinness and (sabered!) champagne.
Dessert: Black and white cupcakes, chocolate shortbread cookies, non-pareils, yogurt covered raisins and chocolate covered blueberries.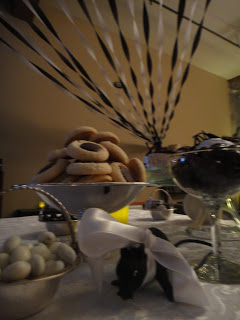 Costumes
: Rob was a jabbawockeez and he helped me dress up as a mummy. Thanks to my big hair and gown, looked like the mummy of Liz Taylor. We also had a wizard, scientist, roller derby girl, roadie, gladiator, cleopatra and more all in black and white!
Rebecca and Derek
were the stars of the evening as "carbon dating" – so clever!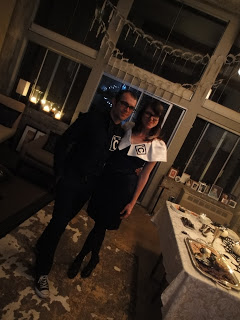 We had a great time! Eating, laughing and talking until the party broke up after midnight.