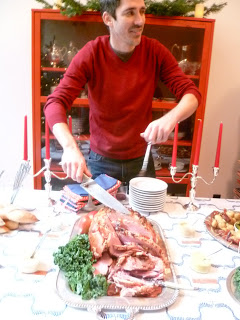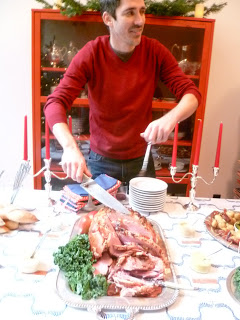 Our 18-pounder from Roberts was an incredible piece of meat. So I don't know how much credit I can really take for the dish turning out so well. Preparation was very easy:
Glazed ham
1 large deli (trimmed of the bone) ham
12 or so whole cloves
1 cup dark brown sugar
1 tablespoon of mustard
1 grapefruit
1 teaspoon of cinnamon
1 teaspoon of allspice
1 teaspoon pepper
dash of nutmeg
Remove the fabric netting from the ham. You may want to tie the ham with butcher's string to keep it together during baking, otherwise it will expand. Score the fat on the top of the ham with a knife into 1 inch squares. Stick a clove in the middle of each square.
Mix your brown sugar glaze ingredients together in a bowl. Use the grapefruit for zest and then a dash of juice to bring the glaze to a paste consistency.
Bake the ham 15 minutes per pound at 325 covered tightly with foil. Halfway through the baking, spread the glaze paste on top of the ham. Bake until you hit about 150 degrees in the middle of the ham. Ours cooked for four and a half hours.
Let the ham rest for about 20 minutes before starting to carve. It should be almost falling apart and very easily sliced. Serve with a selection of fancy mustard on the side. A dab of black truffle mustard is crazy good with this!