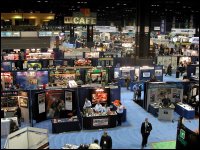 Urban Girl Almanac: Conference
How is it possible that this week was even busier than last week?! It's almost May?! Where does the time go?! I know I keep saying it, but I really hope next week is a bit more relaxed.
Here are a few things I learned during this extremely packed week:
Bicycle seats at the gym are terribly uncomfortable.
Headbands! A great hair accessory and my current obsession.
Fresh mandarin oranges are a lovely addition to a green salad.
Taking BART to Berkeley is very easy…taking the BART back to the city is a bit more challenging. Don't forget to switch trains at MacArthur.
Dan Rather is extremely well spoken.
Barry "The Maverick" Wishner is a member of the Commonwealth Club, too.
The MUNI underground closures after 10pm are driving me nuts.
The Moscone convention center is huge, but fortunately staffed by a kindly security guard who bears an uncanny resemblance to a walrus.
Did you know that the Moscone center is named after the gay-friendly San Francisco mayor who was assassinated by a former policeman in 1978?
The Faraday Effect rocks.
Trade show floors are my own seventh circle of hell. My hatred for them is only surpassed by my loathing of renaissance faires (it makes me gag just to type that extra "e"). A trade show for a renaissance faire would make my head explode.
Our kickball team is amazing. I am so glad that we can win despite my awful contributions.
Royal Motors may be expensive for repairs but they do wash your car and give you roses.
LinkedIn is an interesting site for networking and building business contacts.
Trader Joe's frozen tuna steaks are perfect for making fish and black bean tacos.
I'm off to San Luis Obispo for the weekend. If the weather stays nice, we'll rock climb and go to the beach. Should be a good opportunity to finally catch up on my sleep and get a little sun!