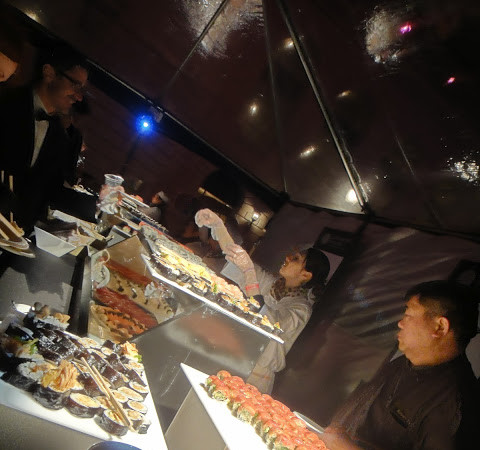 There was an incredible amount of food at the Black & White Ball this year. I don't think I even had a chance to taste half of it! One of the biggest spreads was about eight tables of fresh sushi, including a sashimi bar with really high quality salmon, unagi and himachi. Rob really loved the tuna: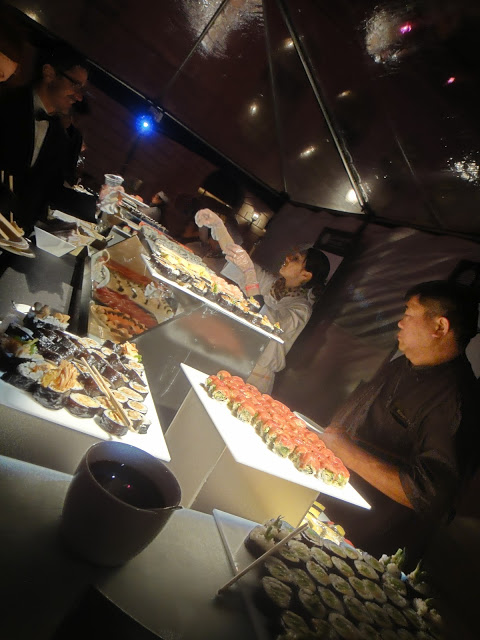 But that was just the start! There were also meat stations with beer brats, hand carved roast beef, meatballs, kebobs and suckling pig on a spit. Seafood stations with enormous jumbo shrimp cocktail and ceviche. Asian stations with steamed pork buns and Vietnamese spring rolls. Fresh fruit and veggies in artful cup displays. Inside City Hall, there was a giant spread of cheeses and charcuterie, including freshly shaved prosciutto.
And don't forget the desserts: gumball-sized profiteroles, chocolate dipped madelines, shortbread, biscotti, chocolate covered strawberries, truffles and tiny mousse cups in tall glasses made with liquor. Plus, roaming food that would appear and vanish at random times. I ate a delicious Bacetti ice cream bon bon and a midnight hot dog off passing displays.