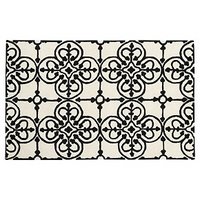 Things I love today: Morocco Rug
I used to say that I wanted to be the "wife of the ambassador to Morocco" when adults asked me what I would be when I grew up. Who knows where I got that crazy idea. It must have driven my feminist mother up the wall! I've definitely given up on it now, especially after seeing Thomas Riley's photo online.
But I don't have to pass on ex-pat Moroccan style entirely. CB2 introduced a new "Moorish Modern" rug into their collection. I love the clean black and white lines that makes the traditional Moroccan design look so fresh!