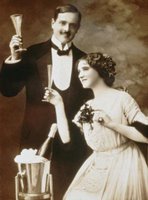 Yosemite wedding tomorrow!
I think I've managed to get everything arranged for Paul and Celeste's wedding tomorrow morning. I hope they like all the help we've provided! I love putting all my bossiness to good use.
I am picking up the flowers after work today. I hope they survive the drive! I've packed a set of vintage champagne flutes, a silver cake tray, silver wedding cake servers ($6 from Ross! Such a deal!) and some plates and forks. I even picked out an antique handkerchief that Celeste can use as her "something borrowed." Ken is bringing a cake from LA and Rob has all his camera gear ready too.
The ceremony is tomorrow morning at 6:00 overlooking Yosemite. I think I have convinced everyone to go to the Ahwahnee Hotel for a breakfast "reception" after we're done with photos. The plan is to rock climb around the valley later in the day.
I'll take lots of photos! Look for a full report on Monday!