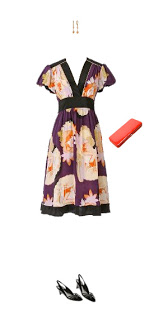 What to Wear: Husband's Reunion
My dislike of reunions is well documented. But any reunion that's not actually yours, is really just a party. And I'm a big fan of anything party related. Here is Katie's request:
Do I have a what to wear question for you!?! Next month is my husband's 10 year high school reunion and I would love to look FABULOUS for it. He grew up in the Laguna area of Southern California where in my mind everyone is tan and beautiful. I'm in need of an outfit STAT. I'm sure the whole thing won't be too dressy, and will probably have a cool, laid back California vibe. Still, I'd like to look a little grown-up and really well put together.

I think the event will be leaning towards cocktails, but still pretty casual, beachy kind of event. Also, lest I forget to mention, the top needs to cover my shoulders and the bottom go at least to my knees.My budget is probably around $250-$300 or so. I'm gonna splurge a bit because I got a raise today.
The nice thing about California-casual, is that you can basically wear anything. A nice, flattering dress is the perfect easy choice for this type of event.
Dress – A kimono style dress is covering, flattering and very SoCal. This pick from Anthropologie toes the line between cocktail and beach. (ed: this link keeps on breaking, apologies. The dress is called Chabana)
Clutch – A bold choice in bright orange.
Shoes – I struggled with this pick. You really need a wedge if sand is going to be involved, but it's not my absolute favorite. If no sand, find a very cute black dressy sandal.
Earrings – Nice and dangly to compliment your blown out hair. A blow out is really absolutely necessary for any event in the L.A. vicinity, in my mind.
Some bronzer or fake tan will also be a help as you prepare for this big day. And eyeliner…lots of eyeliner. Think MAC counter and The Hills, you'll fit right in!