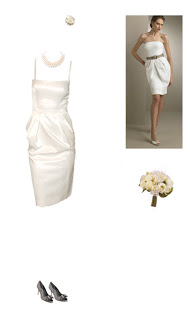 Here's the Dolce and Gabbana dress that cost me 4 hours of sleep last night. Despite the description, it does have straps. I've pretty much decided not to buy it (sort of, maybe). Here are the pros and cons that have been flopping around my head:
Pro – Gorgeous. Literally, the only thing I've found that has worked well. Fits like a dream.
Con – $800?!
Pro – Originally $2,800 (!) and currently 75% off. The bargain factor is cruelly motivating.
Con – $800 🙁
Pro – Pockets!
Con – Kind of funny looking when seated.
Pro – Dolce and Gabbana!
Con – I could probably get something similar from J.Crew for $300.
Pro – I could sell the cool logo belt it comes with on eBay and get even a little bit more money back?
Con – The zipper than runs down the whole back is a little weird.
Pro – I'm not spending that much money on my other wedding dress, so I could splurge a bit. I have the money.
Con – I'm so cheap. Buying it will give me heartburn for a week.
Pro – Love it.
Con – $800.
I've bribed Margaret with a ticket to Wall-E tonight to see the dress in person and help me decide. They'll ring it up first thing tomorrow morning unless I cancel. Which I will…maybe.