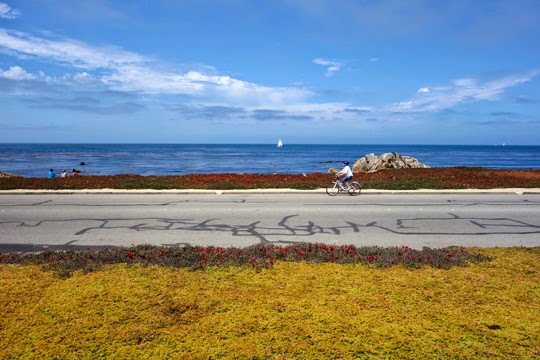 Welcome to Pacific Grove!
Pacific Grove sits at the furthest point of a peninsula beyond Monterey and Pebble Beach. Its famously-rocky coast is packed full of kelp, otters, seals, birds and whales and the town has an adorable victorian charm, with a few small hotels and a municipal golf course. It is the ideal setting for a murder mystery book series or for our family weekend at the beach.
80% of the time, the weather is a cool gray overcast, but once in a while you can catch a bright warm day and head to Lover's Point beach.
When we first arrived at the beach, it was raining, but quickly the last of the overcast burned off and the hot sun came out. Kayakers, scuba divers and a water polo match set up in the water.
Behind the beach is a tiny swimming pool built in the 1930's, a sand volleyball court and a snack stand – where we had lunch of veggie burgers, calamari and french fries. After lunch, I finally worked up the courage to jump off the pier, something I've wanted to do for years. We walked over…
…and jumped into the deep, clear water.
It was definitely cold, but refreshing! The locals are right that jumping in is better than wading.
That water!