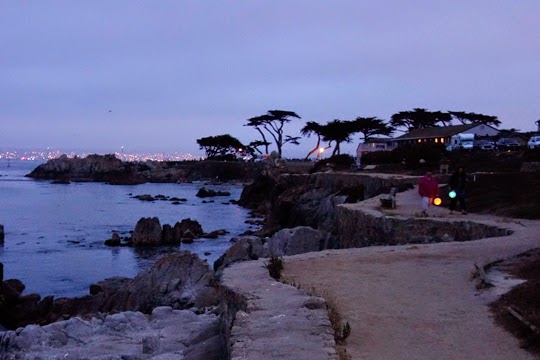 Feast of Lanterns in Pacific Grove, CA
By chance, we planned our family weekend in Pacific Grove on the day of the annual Feast of Lanterns. I hadn't known anything about this celebration before we arrived – it's exactly the kind of thing I like. Started in 1905, the city celebrates a Chinese legend each summer with a boat parade, performance and fireworks show.
We saw people carrying lanterns on the path down to the beach. Most of the beach houses here were decorated with bright paper lanterns and a few were having parties.
A very festive sight along the coast.
Above Lover's Point beach, they had stands selling different kinds of asian food and battery powered lanterns shaped like fish.
A floating dragon with red eyes and nostrils that breathed smoke swam around the bay as 7,000 people watched a pageant with Japanese drumming and belly dancing on the pier.
At 9pm, the pageant concluded with a big fireworks show. It went on for 45 minutes as – what looked like a crew of volunteers – lit one firework at a time with a flare from the shore.
So much fun!