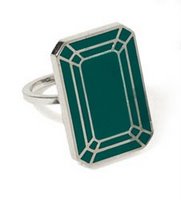 Things I love today: Emerald ring
Jennifer Kellogg is a designer whose work plays with the concept of jewelry. Most of her cheeky trompe l'oeil work involves necklaces that made of "diamonds." I like this collection, but it is really more interesting than beautiful. Very MOMA jewelry collection.
The emerald series is different. Using silver and enamel, this collection is lovely. I particularly like the emerald ring pictured here. It's smart, stylish and only $90. Not available online, but you can email or try Bulo on Hayes.